Comfort Heaters For Outdoor Living
Your Home or Business Deserves Efficiency and Performance
FIND THE BEST RESIDENTIAL OR COMMERCIAL OUTDOOR ELECTRIC HEATERS FOR YOUR SPACE.
Make your patio, restaurant or outdoor kitchen comfortable throughout the shoulder seasons. Learn more about how Aura heaters can elevate your outdoor oasis.
Carbon Fibre Series
With fast warm-up and low light, the CF-Series heaters keep everyone comfortable. Don't let chilly evenings end the night!
Shadow
Series
Experience the fusion of elegance and minimalism with our Shadow Series – a zero-glare infrared heater.
Decor
Series
Our Decor Series features smartphone-controlled, light-filtering technology for enhanced warmth and subtler lighting.
COMPLIMENTARY RESIDENTIAL AND COMMERCIAL OUTDOOR HEATING DESIGN SERVICES
Let Our Heating Experts Guide You.
Benefit from our residential and commercial outdoor heaters design services for your space. Our skilled heating experts are ready to recommend the perfect heater for your area and create a tailored design layout just for you.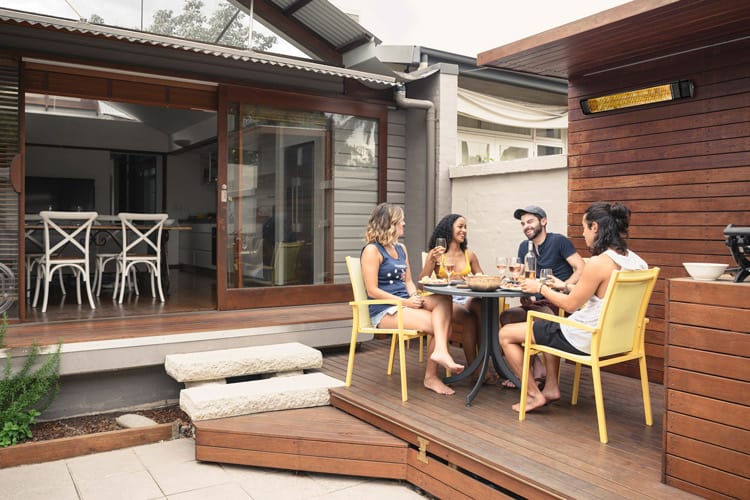 WHY AURA PERFORMANCE HEATERS?
Efficient, Reliable & Elegant.
At Aura, we don't just sell heaters. We provide a comprehensive service, guiding you meticulously through every step of your designing process, ensuring a seamless and satisfying experience.
And we're not stopping there. Our excellent customer support during and after your installation is always ready to assist, reflecting our dedication to your comfort and satisfaction.
Choose Aura Performance Heaters, where quality meets performance, and experience the difference for yourself.
Our Technology
Innovative design featuring the latest in infrared technology, learn why Aura Heaters can transform your space.
Resources
Catalogs, specification sheets and other technical downloads – everything you need to know about our heaters.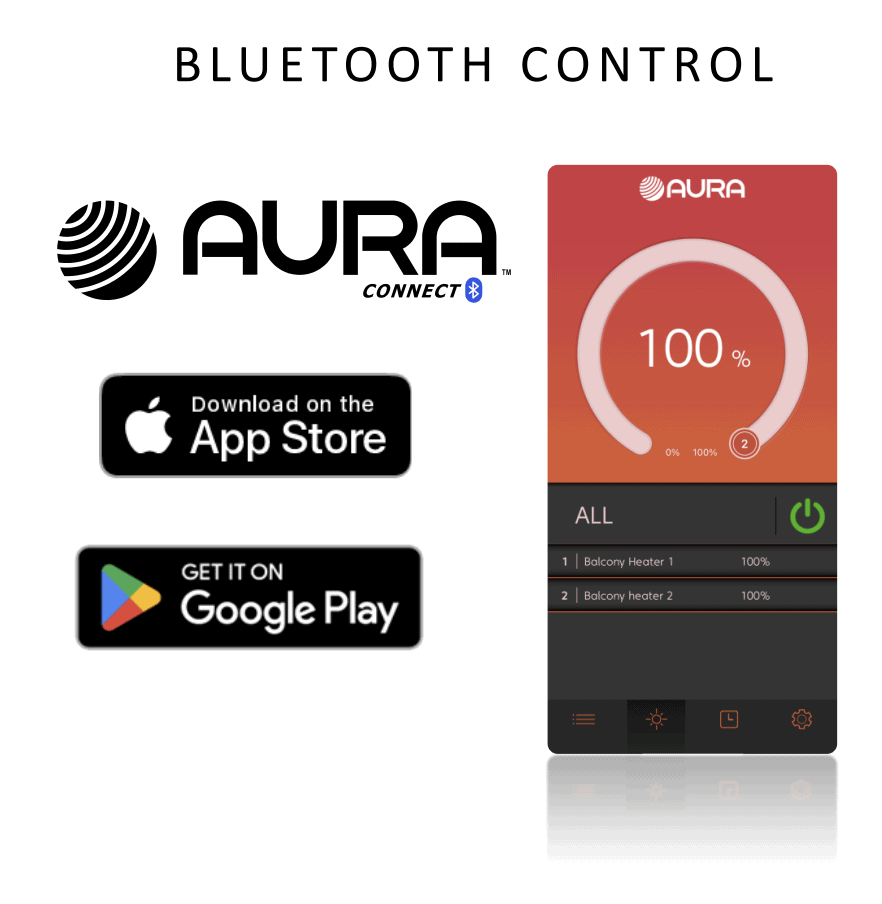 ULTIMATE CONTROL
Introducing Decor Series heaters, where convenience meets advanced technology. Our heaters are designed with integrated controls, eliminating the need for separate control panels. With the Decor Series, managing your heating experience becomes effortless.
Experience seamless control with the included 6-step wireless remote, allowing you to adjust the settings with just a few clicks.
We've taken it a step further by providing compatibility with both iOS and Android devices. By downloading the free AURA CONNECT app, you can transform your smartphone or tablet into a powerful heating controller. This smart app offers an array of features, enabling you to customize your heating preferences from anywhere within the reach of your Wi-Fi network.
WHAT OUR CUSTOMERS ARE SAYING
Extended Our Living Space