The Perfect Fit For Any Restaurant Outdoor Space
There's an excellent reason why restaurant designers choose Aura Infrared heaters. They are easily installed, energy efficient, and produce zero harmful gasses, making them an environmentally friendly choice.
Our electric infrared heaters perfectly fit your outdoor space, ensuring you and your guests enjoy cozy warmth even on chilly evenings. With their sleek, energy-efficient, and advanced heating technology, Aura Infrared Heaters offer style and functionality, creating a welcoming atmosphere for your customers to dine and relax.
Performance-Driven, Built To Endure The Elements
Whether you're embarking on a comprehensive design and build project to revamp your outdoor living space or seeking a last-minute retrofit solution to optimize your existing seating area, Aura electric commercial patio heaters are the perfect choice.
With their sleek design and cutting-edge technology, Aura heaters provide exceptional performance, durability, and a touch of elegance to your patio.
Specifically engineered to withstand the severe elements, Aura heaters can deliver warmth and comfort during the cooler months, allowing you to enjoy a delightful outdoor experience all year round.
Aura Performance Heaters Extended The Patio Season
Upgrade your restaurant patio with Aura performance heaters and extend the patio season for you and your customers—no more hassle of asking staff to move propane tanks or deal with unreliable gas heaters.
Our hospitality-focused designers are here to bring your vision to life with solutions that fit bars and restaurant spaces. Imagine a cozy and inviting atmosphere where guests can enjoy outdoor dining even during colder months. With our state-of-the-art heaters, you can create an exceptional outdoor experience helping you retain existing customers and acquiring new customers.
The first step is having a vision, and the second is reaching out to our heating and design experts.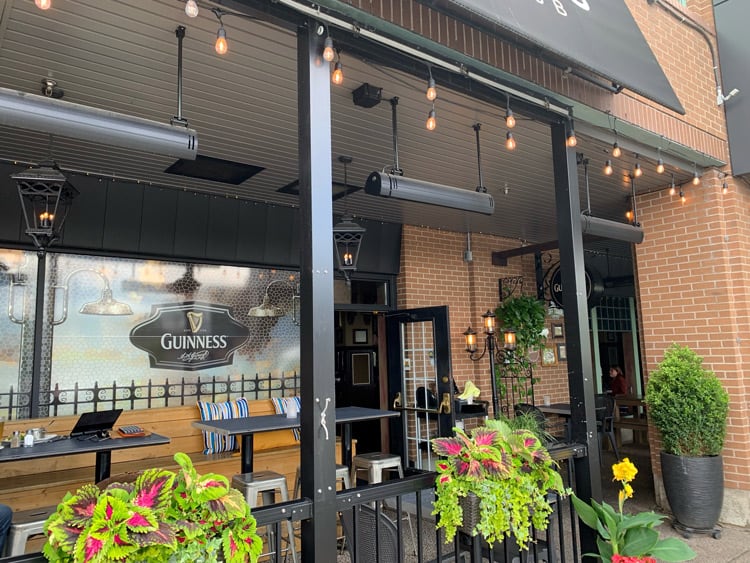 Carbon Fiber Series
Our most versatile heater, the CF Series, will create a comfortable climate within your restaurant. Offering easy mounting options for both the wall and ceiling. Discover the perfect balance between high outdoor heating output and low light output, creating an ideal environment that combines warmth and ambiance.
The CF Series is the ideal eco-friendly replacement for propane heaters and has no adverse effects like CO2 emissions—incredible weatherproof outdoor heaters designed to fit any outdoor space.
Shadow Series
The Shadow Series, our zero-glare infrared heater, brings elegance to minimalism. Redefine your room or studio with our new no-light, convective infrared heater.
Featuring long-wave technology, this heater is designed to take the edge off in semi-enclosed outdoor rooms or above your indoor workspace. Our architecturally focused, no-light radiant heater – is the perfect blend of style and functionality. Designed to provide efficient and comfortable heat, this state-of-the-art heater seamlessly integrates into any indoor or outdoor space, enhancing the ambiance while keeping you warm.
Say goodbye to bulky and unsightly heaters and embrace the elegance and performance of our innovative heating solution.
Frequently Asked Questions
Aura offers a range of electric restaurant heaters for commercial and residential applications.
Here are some types of Aura electric restaurant heaters:
Carbon Fiber Series: This series features low-light, performance-driven heaters with built-in variable remote control. These heaters utilize carbon technology and offer power options up to 6000W.
Shadow Series: Represents the next evolution of comfort heating. These heaters are constructed with premium materials and engineered with NO-LIGHT radiant technology, providing efficient and effective heating without emitting visible light.
Aura infrared and carbon fiber heaters utilize advanced technology to generate heat and provide efficient heating solutions. Here's an overview of how Aura infrared and carbon fiber heaters work:
Infrared Technology: Aura infrared and carbon fiber heaters utilize infrared technology to produce heat. Infrared waves are electromagnetic waves that transfer heat directly to objects and people in their path, similar to how the sun warms the Earth;
Carbon Fiber Emitters: Aura carbon fiber heaters incorporate advanced carbon fiber emitter technology. These carbon fiber emitters are designed to generate instant, directional, and efficient infrared heat. The carbon fiber filaments operate at high temperatures and convert a significant portion of the supplied electrical power into directable infrared heat.
When buying an electric restaurant heater, several factors must be considered to ensure you choose the right one. Here are some key considerations: heating capacity, type of heater, safety features, energy efficiency, durability and quality, ease of installation, and noise output.
Calculate the BTU Requirement: To determine the size of the heater, calculate the BTU (British Thermal Unit) requirement for your restaurant space. Measure the length, width, and height of the area to be heated. Multiply these measurements to find the cubic footage. Then, use a BTU calculator or consult an HVAC professional to determine the appropriate BTU capacity needed to heat the space.
Consider the Wattage: Electric heaters are typically measured in watts instead of BTUs. As a general rule of thumb, every square foot of space requires about 10 watts of heating power. Multiply the square footage of your outdoor restaurant space by 10 to estimate the wattage needed for the heater.
Unsure how to calculate your BTU requirements? Reach out to our heating and design experts.
When installing an electric restaurant heater, several important considerations must be remembered. These considerations help ensure proper installation for effective and safe heating.
Here are some key points: power supply, location, clearance and mounting options, maintenance and accessibility. However, a great feature of our heaters is we offer remote controls to operate the thermostat.
Yes, we offer electric heaters suitable for outdoor use. We manufacture state-of-the-art electric infrared heaters for both commercial and residential applications.
We also have a range of outdoor electric radiant heaters designed for various outdoor spaces such as patios, decks, balconies, terraces, gazebos, and garages. These heaters provide instant heat, a comfortable warm glow, and coverage for outdoor areas. They are IP65-rated for wet/dry applications and are weatherproof and durable.