CarbonBraid Emitter Technology
Carbon fiber filament emitters represent the latest breakthrough in radiant heating technology.
The perfect balance between heating performance and low light output.
Longer Life  50% longer compared to traditional short and medium wave emitters
Quick Warm up time Don't wait around for your heater to warm up, it only takes seconds
Electric Radiant Efficiency heat produced warms people and objects, not the air between them
Environmentally Conscious No fuel, no harmful byproducts into our atmosphere
Evenly distributed heat that is practically unaffected by windy environments
Deliver superior heat while reducing light output so you and your guests can focus on the moment without worrying about excessive light or wishing your heater had better performance.
Aura CarbonBraid Emitters
Aura CarbonBraid emitters are engineered to outperform. They are among the highest output radiant infrared elements available.
Aura CarbonBraid emitters operate at temperatures of 2200°F and convert 82% of supplied electrical power into directable infrared heat.
Designed specifically for a perfect balance of performance and low light output
Proprietary waterproof Quick-Connect replacement system for field service when required
Shadow Radiant Technology
No-Light radiant technology for enclosed, semi enclosed and moderate climate outdoor environments.
Architecturally focused long wave emitter technology for environments requiring no visible light.
No Light radiant heating, keeping the ambiance of your environment in tact
Architectural Powder coated aluminum body and low clearance brackets
Electric Efficiency balances long wave radiant and convective energy
Silent operation
Simple on/off switching or can be controlled by your thermostat (switches and thermostats sold separately)
Deliver warm radiant NO LIGHT heat to your favorite area with the architectural focused Shadow Series.
Aura ShadowHeat panels
Aura Shadowheat panel technology delivers significant amounts of radiant heat while producing zero ambient light or glow.
Engineered to convert electrical power into equal parts convective and radiant heat.
The low-intensity radiant heat feels soft on the skin and creates a warm atmosphere.
Aura Shadow panels also generate convective heat, making them great in semi-enclosed or temperate environments.
Infrared Spectrum
Outperforming the field by understanding the electromagnetic spectrum
Competitive products using medium wave emitters generate small amounts of visible light or no light at all but are susceptible to wind, take a long to heat up, and have a short heating range.
Conversely, competitors using short wave emitters offer superior performance but also emit significant amounts of visible light.
Aura CF Heaters leverage the capabilities of short-medium wavelengths. Utilizing the benefits of the medium wave, soft light, short wave, and high performance, Aura's short-medium wave gets the best of both worlds.
Aura Shadow Heaters utilize long wave technology for architecturally focused indoor, enclosed, semi-enclosed and moderate climate outdoor areas when no visible light is important.

Benefits of Electric vs Gas
Ease of Installation
Installation of electrical heating appliances is easier and more economical than installing gas heating appliances.
All buildings have access to electricity, while not all have access to natural gas.
UL/CSA compliant products allow for installations in most areas of the country
Outdoor natural gas heating installations require costly gas lines
Emissions
Electric heaters have no direct emissions – No C02 or other greenhouse gasses are produced. Your carbon footprint will thank you.
Natural gas and propane heaters generate direct emissions. By burning fuel, they constantly release C02 into the environment.
Heating Control
Electric heaters can be controlled by the tip of your finger or with your smart home devices or other simple controls.
Aura CF heaters come with an integrated control board and remote control.
By bypassing the heater's onboard controls, heaters can be also controlled by home automation systems like Crestron, Lutron, and Control 4. Content Aura for complete.
Competitive gas-burning products have little control opportunity. They are commonly controlled by cycling the heater on and off.
Aura Shadow can be controlled by simple on/off switches or thermostats (not included)
Maintenance
Low Maintenance, no worries
Annual reflector cleaning is recommended and long-life emitters of 5-10,000hours
Aura heaters eliminate the need to check gas connections, lines, and regulators as well as troubleshoot low pressure issues
Gas heaters require an annual inspection by a certified gas service technician
No need for replacing expensive propane tanks
Clearances
Electric heaters require smaller clearances than gas heaters.
The Aura CF series woven braid emitter operates at 85% radiant efficiency. Generating very little convective heat they require small clearances to walls and ceilings.
Gas heaters have low radiant efficiencies between 40-60%, they heat the air and therefore require large clearances to ceilings and sidewalls
Noise
Gas Heaters require onboard fans to distribute hot air into the target space. While Gas heaters claim to produce Radiant heat, almost half of the heat they generate is convective heat which can be blown away.
Electric Infrared is directional heat and do not need fans to push to the target area.
Fundamentals of Heat Transfer
Aura Performance heaters deliver the maximum amount of heat to people and objects in the target space based on their application. This phenomenon of objects delivering and receiving heat is known as Heat Transfer. Heat transfer can be described as the way objects receive and give off heat. There are 3 fundamental methods of heat transfer:
Conduction: transfer of heat through solid objects (ex. Your skin feeling cold while touching an ice cube).
Convection: Transfer of heat through a medium like air or water. (ex. A potato cooking receives heat by convection inside an oven).
Infrared Radiation: Transfer of heat by objects in the form of electromagnetic waves (ex. The sun's rays warming earth through space).
All comfort heaters transfer heat to people by either convection or infrared radiation, or a combination of both.

Most gas or propane-fired heaters provide heat by convection by heating the air, which then heats the people in the space.
In exposed environments, this heat can be completely blown away by even light winds.
The harder the wind blows, the faster that heat is blown away.

Infrared radiation is like a flashlight beam; every object that the light touch is being heated!
The Sun's surface temperature is roughly 5,500°C (9400°F)and transfers huge amounts of heat to Earth by Infrared Radiation.
Infrared heaters have a hot surface that emits heat to objects around them.
The radiant efficiency of the heater is proportional to the surface temperature of the emitter.
Radiant heat is not affected by wind, nor does the heat "Rise".
Heating elements generate both convective heat and infrared radiant heat. Aura produces performance heating appliances that fit any application, from windy rooftop terraces to protected, three season rooms. Each heater has been engineered to perform in different environments.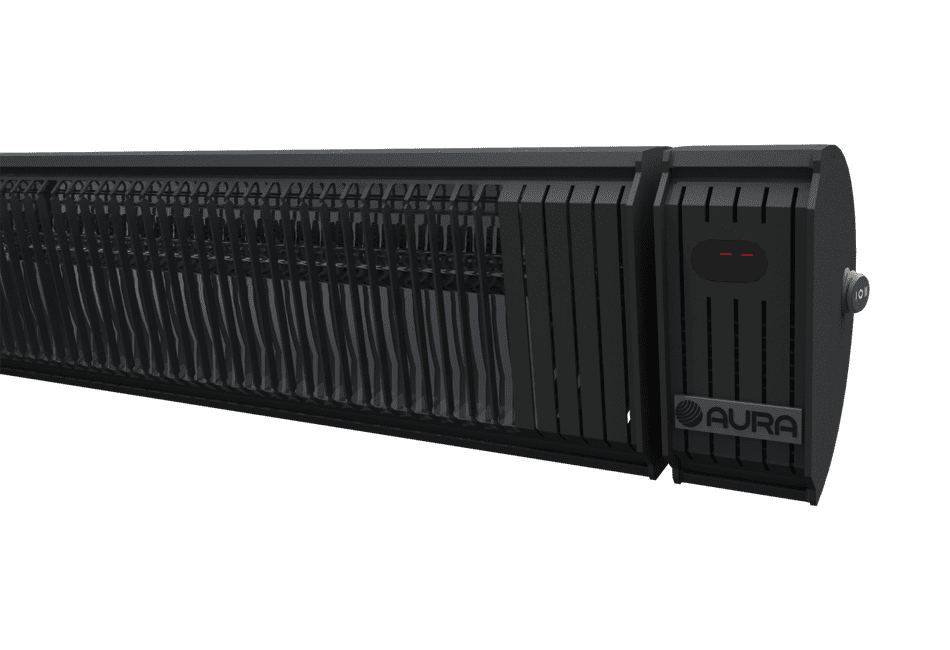 Steps toward a greener future
Electrification is coming. Are YOU ready?
With the transition to a net zero future well underway, heating spaces still remains an emission intensive process…but it doesn't have to be. Aura delivers products to help keep our customers comfortable, without the direct emissions associated with traditional gas burning heating appliances.
Now, more than ever, we are seeing an industry shift to greener buildings and spaces. New government laws are making steps in the right direction toward reducing our carbon footprint. New homes are being made without gas lines and buildings are pushing toward net zero carbon status.
Join us in making the right steps for our planet.