Enjoy cooking meals outdoors with comfort, even during the colder months.
Barbecue lovers don't stop when the seasons turn – we make year-round grilling comfortable. Nothing cooks better than an outdoor grill, but sometimes cooking in the fall, when it's a bit crispy, isn't enjoyable. With our outdoor kitchen heaters, we've got the solution to make your cooking experience enjoyable no matter the weather.
The best part? You can turn on your outdoor kitchen heaters with the push of a button and have your grill zone heated faster than your barbecue can warm up.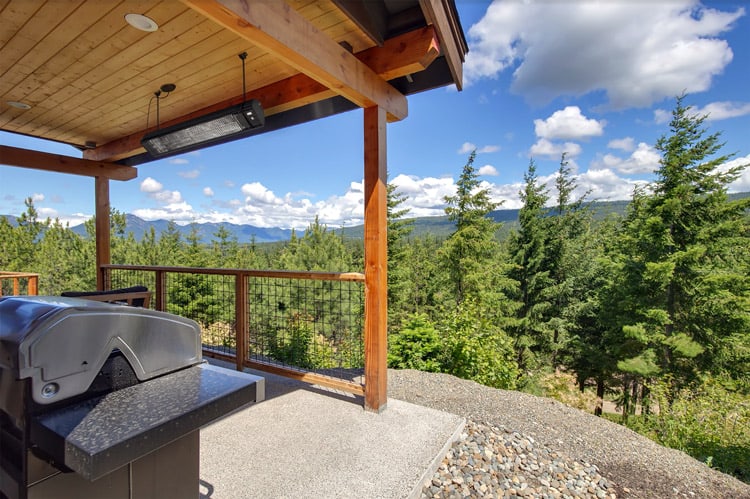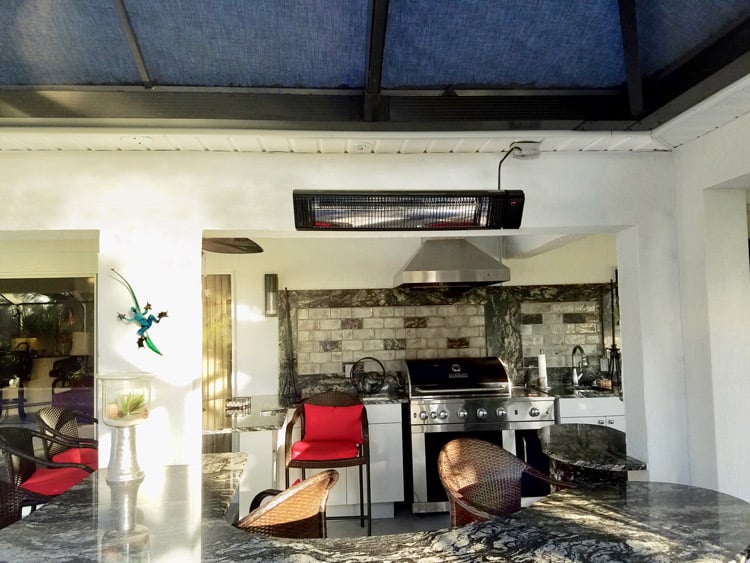 Our Carbon Fiber Series Heaters = Instant Comfort
We've designed our state-of-the-art Carbon Fiber Series to provide warmth in outdoor settings. Our heaters use a technology that outperforms the elements by providing a "laser beam" of heat, allowing the warmth to stay even during windy conditions.
Carbon fiber filament emitters represent the latest breakthrough in radiant heating technology.
Being the most convenient heaters for your outdoor kitchen space, our carbon fiber series provides heat within seconds of starting them up. You can use the supplied remote control to start your heater from inside, which might be easier than starting your BBQ!
Extend Your Living Space
Adding an outdoor kitchen to your home is a fantastic idea. However, it's important to consider how weather conditions can restrict the usability of your space to just a few months per year.
By adding outdoor heaters, you can not only extend your living space for more months out of the year, but you can also add extra value to your investment.
Share Your Comfort With Others
Why stop at your outdoor kitchen when you can install multiple heaters around your outdoor space to create the perfect space for your guests? Adding a few heaters within your backyard creates a comfortable atmosphere for outdoor gatherings, providing warmth and ambiance all at once.
Imagine having a warm, comfortable outdoor kitchen during the winter holidays or hosting a summer barbecue without worrying about chilly evenings. With our heaters, you can make the most of your outdoor space all year round.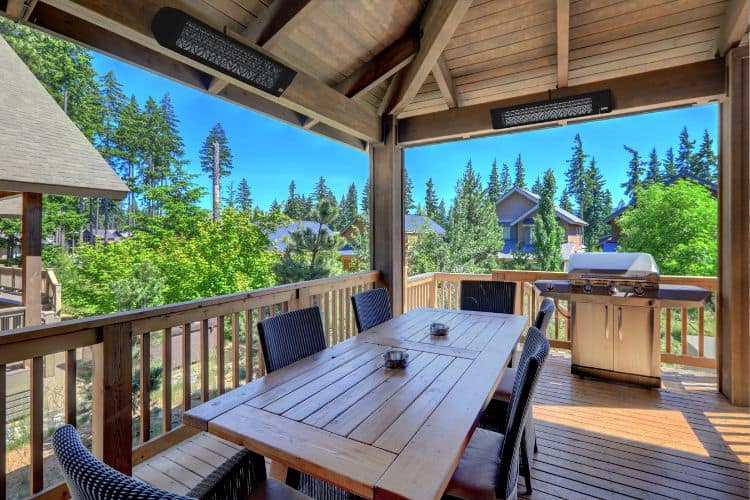 Frequently Asked Questions About Outdoor Kitchen Heaters
The best outdoor heater depends on your specific needs and preferences. However, our Carbon Fiber Series Heaters are top-rated for their efficiency and convenience for outdoor spaces.
Each space is unique and might require multiple heaters, or not! With the help of our team, you can design the utmost set-up for your outdoor space. Reach out to our design team today, and one of our radiant heat experts will help you keep your guests warm.
Our Carbon Fiber Series Heaters are environmentally friendly as they use infrared technology to emit heat, which is a more efficient and eco-friendly alternative to traditional outdoor heaters that emit gas or propane.
Plus, our heaters have a carbon fiber filament emitter that uses less energy compared to other types of heating elements. This means you can enjoy your outdoor kitchen while minimizing your environmental impact.
Absolutely! However, it is crucial to carefully plan and design your space to maximize the effectiveness of your outdoor heaters. Several factors, such as the size of your area and the geographical location, will impact their performance.
Yes. Our Carbon Fiber Series Heaters are weather-resistant and can be used in light rain or snow. However, we always recommend turning them off during inclement weather.